Watch: Putin squirms as voting machine rejects his ballot
Comments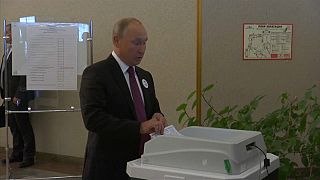 Vladimir Putin suffered an awkward few seconds after a voting machine in Moscow's mayoral election rejected his ballot.
It happened on Sunday in front of reporters at the Russian Academy of Sciences, which was being used as a polling station.
Russia's president watched helplessly as the device repeatedly spat out the paper in the full gaze of the press, prompting a squirm from the 65-year-old. But Putin persisted and the machine eventually accepted his vote, much to his apparent relief.
Incumbent mayor Sergei Sobyanin looks likely to have won the vote, although the estimated turnout in Sunday's election was thought to be just 30%, according to the Russian news agency TASS.
Putin himself once served as an advisor to the Mayor of Leningrad in the early nineties before he rose through the political ranks to become head of state a decade later.