The moment 'Brazil's Donald Trump' is stabbed at election rally
Comments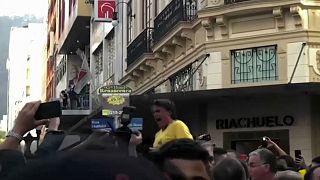 This is the dramatic moment a leading candidate in Brazil's presidential race was stabbed at an election rally.
Far-right firebrand Jair Bolsonaro was being carried by supporters when a man lunged at his stomach.
The 63-year-old, a leading candidate in Brazil's presidential election next month, is in a serious but stable condition in hospital.
Bolsonaro, a controversial figure who has enraged many Brazilians for years with divisive comments, has been described as the country's answer to Donald Trump.
"His internal wounds were grave and put the patient's life at risk," said Luiz Henrique Borsato, the doctor who operated on Bolsonaro.
The attack on the 63-year-old is a dramatic twist in what was already Brazil's most unpredictable election since the country's return to democracy three decades ago.
There were fears that violence could flare across Brazil on Friday, as the nation celebrates its Independence Day and political groups are expected to march in hundreds of cities.
Unlikely to return to campaign
Bolsonaro is unlikely to return to campaigning before the Oct. 7 first-round vote because of the severity of wounds he suffered in a stabbing attack, his son, Flavio Bolsonaro, said on Friday in a video posted on Facebook that his father was in a "delicate situation and has trouble speaking."
He added that the elder Bolsonaro, 63, "probably will not be able to get back in the streets in this campaign. He cannot go to the streets, but we can."