Europe briefing: Five stories to know about today
Comments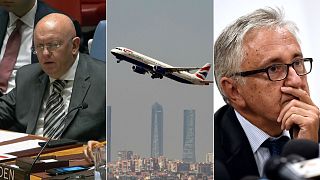 British Airways CEO confirms airline has suffered 'worst breach in 20 years'
Hackers who stole customers' payment information from British Airways' website committed the worst breach in the site's 20-year history, according to its CEO
In an interview on BBC radio, the Alex Cruz said Friday that all affected customers, thought to number some 380,000, had been contacted as of Thursday night and will be compensated if they lose money.
"We will get through this," he added.
BA has said the hack took place between August 21 and September 5. Travel or passport details were not affected. Yet the breach was not discovered until Wednesday.
Russia lashes out after UK doubles-down on Novichok accusations
Russia has hit out at UK's latest efforts to prove its involvement after a military-grade nerve agent was used to poison four people in southern England, killing one.
Speaking Thursday at the UN security council in New York, Russia's ambassador Vasily Nebenzya dismissed Britain's evidence as "lies", while the UK's UN ambassador Karen Pierce accused Russia of "playing dice with the lives of the people of Salisbury".
Earlier this week, chemical weapons watchdog OPCW linked the deadly Soviet substance Novichok to the incidents in March and June.
The US, France, Germany and Canada, also lined-up to condemn Moscow at the summit in the wake of the news.
Italy to reassess Autostrade concessions after Genoa tragedy
Italy are to review concessions "one-by-one" on the management of water, television and telecom, for Autostrade per l'Italia to manage part of its motorways, the deputy prime minister told the newspaper Il Corriere.
"Autostrade is only the tip of the iceberg," Deputy Prime Minister Luigi Di Maio said in an interview published on Friday.
The government's reassessment comes two weeks after a viaduct on one of Autostrade's motorways collapsed in the port city of Genoa, killing 43 people.
1 in 3 news articles shared about Sweden's election are fake
An Oxford Internet Institute study has found that one in three news articles shared on Twitter about Sweden's upcoming election is from "junk news" websites that deliberately publish misleading information.
Anders Fogh Rasmussen's organisation has been studying how Russian bots meddle in the Swedish elections.
He spoke to Euronews' Raw Politics show on Thursday night:
Britain now hosts World's largest offshore wind farm
Britain has opened the he world's largest offshore wind farm.
Sitting off the northwest coast of England, Danish energy group Orsted unveiled the Walney Extension project on Thursday.
It hosts 87 turbines across 145 square kilometres - equivalent to around 20,000 football pitches – and has a capacity of 659 megawatts - enough to power almost 600,000 households.
According to data from the Global Wind Energy Council, Britain is the world's largest offshore wind market, hosting 36% of globally installed offshore wind capacity.
As it happened on Friday, September 7
This is how we covered key developments this morning: