Failed coup crackdown? Moldova raid sees teachers expelled to Turkey
Comments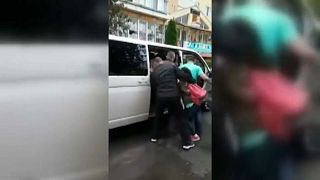 Footage has emerged showing the raid on a Moldova school linked to the man Ankara accuses of being behind a failed coup.
It saw seven people — thought to be mainly teachers — expelled to Turkey, according to Moldova's state security service.
Amnesty International said the group, who are all Turkish citizens, were detained with "excessive force and intimidation".
An associate of those expelled said he suspects the expulsions — carried out in the capital Chisinau — had been done at Ankara's behest.
The detainees worked at a network of schools that were originally set up by the movement of US-based Muslim cleric Fethullah Gulen, which Turkish authorities hold responsible for a failed 2016 coup in Turkey.
Turkey has put pressure on countries to deport people believed to be linked to schools financed by Gulen, whose movement Ankara has declared a terrorist organisation.
Moldova's state security service stated it had expelled seven foreign nationals because they posed a threat to national security, without mentioning their nationality.
"We are deeply concerned about the fate of the seven detained Turkish nationals," said Marie Struthers, Amnesty International's director for Eastern Europe and central Asia, in a statement.
"The Moldovan authorities didn't just violate these individuals' rights once by deporting them – they put them on a fast-track to further human rights violations such as an unfair trial.
"The latest arrests in Moldova follow the pattern of political reprisals against Turkish nationals living abroad by the increasingly repressive government of Recep Tayyip Erdoğan.
"In March this year, six Turkish nationals, also school employees, were abducted and unlawfully returned to Turkey without the knowledge of the country's highest authorities and without the ability to challenge what happened to them."
The deputy speaker of the Moldovan parliament publicly questioned the decision to expel the teachers and said he had asked the security service for an explanation.
President Igor Dodon denied Moldovan media reports that expelling citizens at the behest of the Turkish authorities was one of the conditions attached to Ankara donating $10 million (€8.61m) to the renovation of the Moldovan presidential building. The building has been empty since 2009 when demonstrators set fire to it.
"Having received confirmation of the existence of a risk to national security, a decision was made to immediately expel these individuals from the territory of Moldova," a statement by the security service said.
The Turkish authorities have not commented on the case so far.