Europe briefing: Five stories to know about today
Comments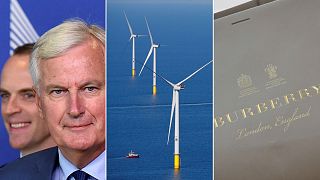 1. Brexit meeting
The EU's chief Brexit negotiator, Michel Barnier, was set to meet with British Brexit Secretary Dominic Raab in Brussels today to discuss the UK's exit from the bloc.
In a tweet on Wednesday, Barnier said the meeting would seek to find "common ground" between the European Council's guidelines and the Chequers plan with a view to creating a "new, ambitious partnership".
The meeting comes a day after Labour MP Stephen Kinnock claimed that Barnier said in a private meeting in Brussels earlier this week that the Chequers plans were "mortes" (dead).
2. Burberry will no longer burn unsold clothes
Luxury British fashion brand Burberry announced it will no longer destroy unsold products, with immediate effect.
"This commitment builds on the goals that we set last year as part of our five-year responsibility agenda and is supported by our new strategy, which is helping tackle the causes of waste," the fashion label said in a statement.
The announcement came after an earnings report sparked outrage in July when it revealed that the brand destroyed unsold clothes, accessories and cosmetic products worth almost €32 million in 2017.
Burberry also said it would stop using real fur in its products, and phase out existing fur items.
3. Britain to present poison evidence to UN
Britain is set present its evidence on the nerve agent poisoning in Salisbury at a UN Security Council meeting.
It comes after the UK on Wednesday named Alexander Petrov and Ruslan Boshirov as suspects in the poisoning.
A spokesman for Prime Minister Theresa May said British officials had stressed at a meeting with Russia's charge d'affaires in London that Britain wanted those responsible for the poisoning of former Russian spy Sergei Skripal and his daughter Yulia brought to justice.
4. World's largest offshore wind farm opens off northwest England
The world's largest offshore wind farm opened on Thursday off the northwest coast of England.
The Walney Extension, by Danish energy group Orsted, has a capacity of 659 megawatts, enough to power almost 600,000 homes.
Britain is the world's largest offshore wind market, hosting 36% of globally installed offshore wind capacity, data from the Global Wind Energy Council showed.
5. France ready to strike Syria if chemical weapons used in Idlib, says army chief
France's top military official said his forces were prepared to carry out strikes on Syrian targets if chemical weapons are used in an expected government offensive to retake the northern rebel-held province of Idlib.
"We are ready to strike if chemical weapons were used again," Armed Forces Chief Francois Lecointre told a small group of reporters. "They can be carried out at national level but it's in our interest to do it with as many partners as possible."
In April, France joined the United States and Britain to launch more than 100 missiles at pro-government targets in Syria in retaliation for a suspected poison gas attack.
Look back at our live blog to see how events today unfolded.