Third suspect wanted in fatal Chemnitz stabbing
Comments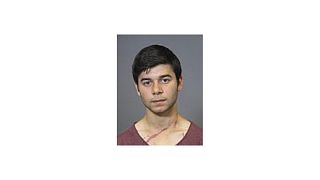 Copyright

Supplied by Polizei Sachsen

-
German police are searching for a third suspect connected to the fatal stabbing of a 35-year-old Chemnitz man that sparked divisive far-right demonstrations in the city after the initial two suspects were revealed as asylum seekers.
Saxony police have named 22-year-old asylum seeker, Farhad Ramazan from Iraq, as the third suspect and warn the public to be vigilant as he may be armed. Moreover, worrisome questions are being raised about the suspects' true identities and how they gained entry into Germany after authorities discovered counterfeit documents on one of the men.
Who are the suspects?
The first suspect, Alaa S., allegedly from Syria, is being investigated by the Federal Office for Migration and Refugees.
The second suspect, Yousif A, had submitted Iraqi documents during his asylum procedure, which proved to be "total counterfeits," the Federal Bureau of Migration and Refugees said.
According to German interior minister Horst Seehofer, Yousif A., presented an Iraqi passport, citizenship documents and a national identity card to authorities last November. Those were determined to be fake, but not until June this year.
The deadline was missed to return Yousif A. to Bulgaria, the country responsible for his case under European legislation dictating that migrants must apply for asylum in the country where they first entered the EU.
The rejection of his asylum application is not yet final.
Seehofer said the oversight was due to a shortfall in highly specialised document experts available at the migration office — an issue the minister had already identified and is in the process of rectifying.
"Such delays and mistakes need to be prevented," Seehofer said.
Tensions rise
After the fatal stabbing of Daniel Hillig in late August following an altercation, the atmosphere in Chemnitz turned aggressive — sparking far-right protests, Nazi salutes by demonstrators, and xenophobic attacks made toward individuals who appeared to be migrants. The heated demonstrations, which attracted several thousand people, were hosted by anti-immigration party, Alternative for Germany (AFD) and the anti-Islam Pegida movement.
On the other hand, many Germans pushed for solidarity against the far-right movement by hosting their own counter protests and holding an 'anti-racism' concert on Monday in Chemnitz that brought 65,000 concert goers together to rally against the recent attacks.
Merkel to visit Chemnitz
Chancellor Angela Merkel is scheduled to visit Chemnitz in October. She's said to host a public dialogue to address immigration issues after the xenophobic attacks in the city. No concrete date has been set.