Raw Politics: 'The Brexit vote was about political independence'
Comments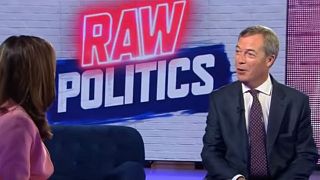 The risk of a 'no Brexit deal' seems more and more likely for British prime minister Theresa May. British voters would likely vote against leaving the European Union if the government called for a second referendum on its Brexit deal, new research from NatCen — a social research institute — found. 
Many believe that Brexit would damage the British economy, said the report. However, former UKIP leader and MEP Nigel Farage insists that will never happen. 
"I was right about the exchange rate mechanism, against all the experts back in the 1990's," he said in an interview with Euronews' Raw Politics show host Tesa Arcilla. 
"I was right about the euro, thank goodness we didn't join the euro," he added raising his hands in prayer. 
During the interview, Farage pressed that Brexit was not about "economic forecast" but about "political independence."
"It was about not having our laws made by these institutions," said the Brexit advocate, not having their court in Luxembourg overruling our own supreme court, controlling our borders, catching our own fish."
"Brexit was about independence," the MEP insisted. 
According to Farage, the political class tricked people into believing that the EU was a common market, which became a political union. 
"They can try and scare us as much as they like, it's crying wolf, we're not listening."