'No one in Russia believes this story,' Russia security expert tells Euronews
Comments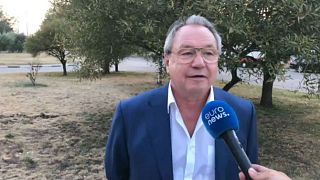 Two Russian intelligence officers on Wednesday were accused of attempting to murder former Russian spy Sergei Skripal and his daughter Yulia back in March.
British Prime Minister Theresa May made the accusation in the House of Commons and again blamed Moscow for being behind the attack.
Russia has repeatedly denied involvement.
But Aleksey Podberezkin, a professor at the Russian foreign ministry-backed Moscow State Institute of International Relations, insisted the UK have no real proof to blame Moscow for the attack.
"They do not have proof and even if they have proof they don't want to show it, to make it public, why not? We asked several times on official and non-official channels and they did not answer," said Podberezkin, told Euronews' correspondent Galina Polonskaya.
Podberezkin believes the UK is keeping the Sergei Skripal case alive because for them it's "a good argument to prolong a story of Russian aggression".
He added that no one in Russia believes the British narrative because Skripal was not an important asset to Russian security services.
"(Skripal) is just a man who betrayed this country without any information, who did nothing for Russia security."
The security expert added Skripal's alleged poisoning by Russian intelligence officers is highly unlikely because "no one on the political level could take such a decision".
He insisted the Novichok poisoning case was a "western coalition strategy to worsen the relations (with Russia)".
"Worsening the relations can be a very bad thing because sometimes this escalation reaches the edge when the forceful things become the military ones, that is very dangerous."