Raw Politics: Selmayr smackdown, bright horizons for Sweden's far-right and Vlad 'Reality TV' Putin
Comments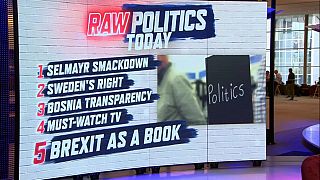 The top story on Raw Politics today looks at the European Commission's findings into its own controversial Secretary General Martin Selmayr. Selmayr was whisked into the top job too fast and without the requisite qualifications, says the Commission's report.
The Cube takes a peek at the Swedish elections coming up this weekend, in which the far-right is tipped to enjoy promising results.
There's also more on election dirt in Bosnia, Vladimir Putin re-imagined as a star of reality TV and a rather bookish view on Brexit.
Presented by Tesa Arcilla from the Agora studio of the European Parliament in Brussels, Raw Politics is designed to fulfil Euronews' promise to provide "All Voices, All Views, All Welcome". It poses hard-hitting questions on the issues that define and divide Europe through impactful interviews, passionate debates and expertise from our correspondents. Guests will come from all over the political spectrum.