Watch: Masked armed group in Slovenia pledges to 'secure order if necessary'
Comments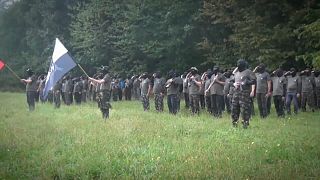 Footage of an armed group being led through training drills by a fringe politician has sparked concern in Slovenia.
Video and pictures have emerged of former presidential candidate Andrej Sisko with around 50 masked members.
Sisko (pictured below), who heads up the right-wing Movement for United Slovenia party, secured 2.2% of the vote in presidential elections last year.
He lost out to Borut Pahor, who expressed concern at the existence of Sisko's armed group.
"President Pahor stresses that Slovenia is a safe country in which no unauthorised person needs or is allowed to ... illegally care for the security of the country and its borders," Pahor's cabinet said in a statement.
Siski told Reuters his group would secure order if necessary and said it was doing nothing illegal. He did admit, however, that the weapons it uses have not been registered with Slovenian authorities.
Slovenian police say they have begun an investigation.