Europe will unleash demonic political forces to recreate 1930s, warns Varoufakis
Comments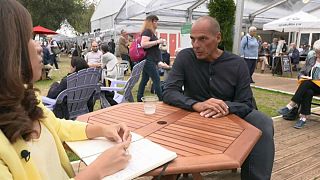 A nationalist and quasi-fascist force is rising up in Europe, former Greek Finance Minister Yanis Varoufakis has warned.
Varoufakis, in an exclusive interview with Euronews' new Raw Politics programme, said the continent was heading for a return to 1930s fascism.
"We are going to unleash demonic political forces that will recreate a post-modern 1930s, with a nationalist, quasi-fascist international rising up both in the United States and Europe," Varoufakis told Tesa Arcilla. "That is exactly what has been happening."
Varoufakis was then asked if Europe had already reached this stage.
"Absolutely," he responded.
You can watch the full interview on Raw Politics — which is on every weekday night — from 18h CEST on Tuesday (September 4).