'Alternative cyclists' geared up for British Pedal Car Championships
Comments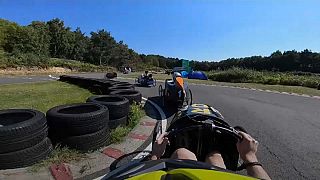 'Alternative cycling' enthusiasts gathered near Camberley, Surrey on Sunday, September 2 for the latest event in the British Pedal Car Championships
Pedal cars are human powered vehicles with up to four wheels that are almost always designed and built by the competitors themselves.
Thirteen teams made up of men, women and even a group of teenage scouts battled it out in a 160km endurance race over a 525-metre go-kart track. 
The six-event series is made up of a variety of races including a 45-minute sprint event and a 24-hour race.
Teams swap drivers over the course of the race, with each rider usually completing 15 to 20 minutes of racing at each go.