Olympic sprinter Usain Bolt's soccer debut
Comments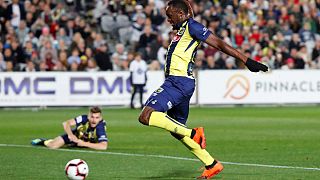 Eight-time Olympic gold medalist Usain Bolt has kicked off a new career - playing football with Australia's Central Coast Mariners. The 32-year-old Jamaican sprinter was greeted by a crowd of nearly 10,000 people in Gosford, north of Sydney.
The Mariners were leading 6-0 when Bolt came off the bench in the 72nd minute - but he admitted to still feeling the pressure.
"I was a little bit nervous, but as soon as I got on the field, I think the nerves kind of went. I wish I had more touches, but I'm not fit yet, but, I just got to put in the work, get up to speed and I'm looking forward to a great season."
Often hailed as the greatest sprinter of all time, Bolt is hoping to win a professional contract with the Mariners.
His presence has already generated huge publicity for the struggling team, who finished bottom of the 10-team A-league last season.