Watch: Seal and butterfly play inter-species game at aquarium
Comments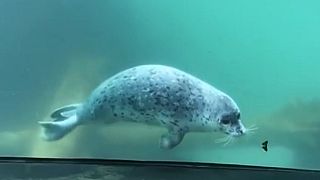 Onlookers at Oregon Zoo in Portland, USA were treated to quite a spectacle when a seal became enamoured with a butterfly.
The butterfly fluttered its wings on the other side of the glass at the aquarium causing the seal to follow its every move.
Kaya, the three-year-old seal, caught the eye of dive safety officer Micah Reese who captured the inter-species interaction on camera.
Kaya was later introduced to other animals by the aquarium staff.