Brazil's Lula banned from presidential race
Comments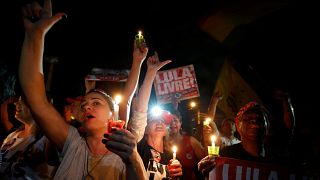 Jailed former president Luiz Inacio Lula da Silva has been barred from running in the elections in October, according to Brazil's top electoral court. His lawyers insist they will appeal the decision. Lula is currently serving a 12-year sentence for corruption and money laundering.
The ruling by a 4-1 majority of the seven-member court removes some doubt about Brazil's most unpredictable and polarised election in decades. The court also banned the leader from campaign advertisements.
Lula is ineligible for office under Brazil's "Clean Slate" law, which prohibits candidates from running if they have convictions that have been upheld on appeal.
From behind bars, the two times former leftist president and union leader is hugely popular and leads polls. Vice-presidential running mate Fernando Haddad, a former mayor of Sao Paulo, is now expected to head the ticket hoping to inherit the bulk of Lula's votes.