Brazil elections: Economic challenges
Comments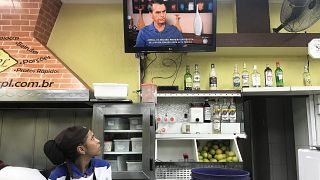 As people go to vote in the presidential elections in Brazil on Sunday, in between the controversies and scandals, most of them worry about being without a job.
Almost 13 million people are out of work.
The unemployment rate has ranged from 12 percent to 14 percent since 2016. And even a year after emerging from recession, Latin America's largest economy continues to struggle.
Without any prospects, many Brazilians had to reinvent themselves.
Alexander Costa lost his job at a food company and decided to create his own business, selling meals near Rio de Janeiro's beaches.
Alexander Costa, entrepreneur says, "I could stay at home looking for a job, sending CVs but with the job market so scarce, it's very difficult, so I did not stop and I decided to create a different thing".
The scenario of a divided and polarized electorate anticipates not only a second round, but also a very complicated task for Brazil's future president.
For political analyst Pablo Braga, the recovery of confidence in the country's economy must be a priority.
Political analyst, Pablo Braga says, "The president will have a very important role of mainly rescuing the confidence of the investors and also to solve conflicts that may exist between states, municipalities and government."
About 140 million voters will be able to cast their say in the next Brazilian president for the following four years on Sunday.