Europe briefing: eight stories you need to know about today
Comments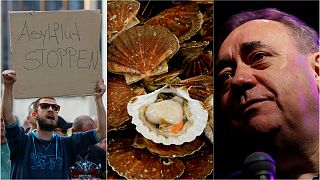 1. Germany probes who leaked stabbing arrest to far-right groups
Germany is investigating who leaked the arrest warrant against an Iraqi suspect in Chemnitz to far-right groups.
The fatal stabbing of a 35-year-old German man triggered days of anti-immigrant protests in the eastern German city.
The leak of the warrant was a highly unusual occurrence that drew sharp criticism across Germany, which has strict privacy guidelines for judicial proceedings, and raised concerns of possible links between police and anti-migrant parties.
The stabbing exposed deep division in Germany over Angela Merkel's decision to let in more than one million migrants, mostly Muslims fleeing Middle East conflicts.
2. Fishermen set for talks over 'scallop wars'
French and British fishermen have pledged talks to quell a dispute over access to the scallop-rich seabed off the coast of Normandy in northern France.
Footage showed insults and projectiles were thrown as fishermen clashed on Tuesday (August 28) morning.
French fisherman are irritated they are banned from fishing scallops during the summer — to protect stocks — while their British counterparts are free from such restrictions.
The head of Normandy's fishing organisation Dimitri Rogoff says he will receive a UK delegation shortly to discuss the matter.
But he told Euronews fishermen were ready to go out to sea for another confrontation with the British if no solution is found.
British ships have no access to French territorial waters up to 12 nautical miles (22 km) off the coast but they can legally operate in the expansive Baie de Seine that stretches from Cherbourg to Dunkirk.
Scallops - known as Coquille Saint Jacques in France - are one of just a few species whose catch is governed by national rather than European Union regulation.
Sebastien Jumel, the deputy mayor of Dieppe, has called on the government to introduce rules that apply to both French and British fishermen.
3. Belgian executive died 'after fall in Moscow'
One of the world's largest steel companies has announced the death of a key executive in Moscow.
Bruno De Cooman, from Belgium, died after falling from a nine-storey building in the Russian capital, according to the TASS news agency.
Police have ruled out a criminal motive behind the death.
He was the vice president of research and development at Novolipetsk Steel (NLMK), whom he started working for last year.
Grigory Fedorishin, NLMK president, said in a statement: "Bruno De Cooman's death is an enormous loss for the group and the entire sector, for his friends and family.
"He has made an invaluable contribution to the development of global steelmaking through product innovation.
"At NLMK Group, Bruno was appointed head of the newly created Research and Development function. We are devastated by the news and pass our sincere condolences to Bruno's loved ones."
4. Alex Salmond quits amid sex misconduct allegations
Alex Salmond, a key independence campaigner and former first minister in Scotland, quit the Scottish National Party (SNP) on Wednesday amid allegations of sexual misconduct.
Salmond said he was resigning from the party he lead for two decades to protect it from opponents.
He has denied the allegations against him and taken legal action against the SNP administration he once ran over the way it has handled the complaints against him.
"I did not come into politics to facilitate opposition attacks on the SNP and, with parliament returning next week, I have tendered my resignation to remove this line of opposition attack," he said in a statement.
5. Panasonic to move its European HQ out of UK before Brexit
Japanese electronics giant Panasonic will move its European headquarters out of the UK to Amsterdam in October, a spokeswoman has confirmed.
She said it was linked to tax issues around the UK's decision to quit the European Union.
It's a result of fears that Britain will cut corporate tax rates post-Brexit in order to keep key firms in the country. If this is the case Panasonic could be required to pay taxes to Japanese authorities, the spokeswoman told AFP.
Fear of obstacles to the movement of people and goods also played a part in the decision.
Of the 20 or so people in the Panasonic office in London, about half would move.
6. German migrant attack on back of Chemnitz violence
Three attackers badly beat a 20-year old migrant in an eastern German town late on Wednesday, police say.
It comes days after a fatal stabbing case that triggered violent anti-immigrant protests in another part of the country.
The migrant, who police did not name, was walking home in Wismar, a town on the North Sea coast, when the attackers stopped him and began insulting him in German using xenophobic language. Two then punched him in the face and the third hit his shoulder and ribs with an iron chain, police said.
The incident occurred days after the violent protests in the eastern city of Chemnitz that were triggered by the fatal stabbing of a German man there. An Iraqi and a Syrian have been arrested in connection with that crime.
7. Name new NATO building after John McCain, says ex-president
NATO should name its new billion-euro headquarters in Brussels after US senator John McCain, a former president of Estonia has told Euronews.
McCain died on Saturday aged 81 after a battle with brain cancer.
Toomas Hendrik Ilves said McCain was "the most transatlantic police figure of the last quarter century or more".
"He was the leading voice for maintaining European security through NATO so I cannot think of anyone better to name the headquarters of NATO after," he said on Good Morning Europe.
8. Watch: Flag fail as new ambassador praises German-Swiss relations
Are diplomatic relations between Germany and Switzerland about to take a tumble?
If the new Swiss ambassador to Germany's gaffe is anything to go by … then yes!
Paul Seger was wrapping up a video message praising German-Swiss relations when there was a flag malfunction.
The German and Swiss flags, which were serving as a backdrop, tumbled as the wind picked up.