Flagging a problem? Switzerland's new ambassador has funny prop gaffe on first day
Comments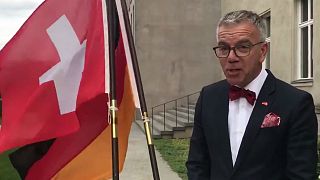 They share a border, language and good diplomatic relations — but are things about to go sour between the Germans and the Swiss?
Let's hope a flag gaffe by Switzerland's new ambassador to Germany isn't something to go by.
Paul Seger was recording a video message to mark his first day in the new post when he was victim of an unexpected prop problem.
He was wrapping up a piece to camera about the strength of German-Swiss relations when the flags of both countries — which were fluttering behind Seger as a backdrop — tumbled down in the wind.
Seger laughed off the incident, which was published by the official Twitter account of the Swiss embassy in Germany.
"On my first day as Swiss ambassador to Germany I made a crashing welcome speech with flying colours," he later joked.