Selfies and salaries: Swiss share salary information on new site aiming to end pay discrimination
Comments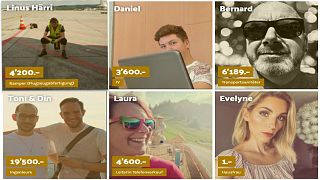 We've all wondered how much our bosses or coworkers make. Now, in Switzerland, there may be a way to find out.
Swiss trade union Unia has spearheaded the creation of a new website where anyone in the country can post their salaries. The website zeigdeinenlohn.ch, or Zeig Deinen Lohn (Show Your Salary), went live last week and already has about 500 people posting their details. The website crashed throughout Wednesday due to the heavy online traffic it's been receiving.
Individuals posting information come from various sectors, such as an oil inspector bringing home 37,000CHF (€32,369) per month to a cleaner earning 3,200CHF (€2,800).
Here's how it works
Users are required to submit a first name, job title, the sector they work in, whether they are part-time or full-time workers, gender, age, and a photo of themselves.
There are other sections that are optional, including the name of the company they work for. But the one risk to consider before taking part is whether your current or previous contracts have a non-disclosure clause about salary information — and weighing the potential consequences.
'Trying to break the taboo'
Nicole Niedermueller, a spokesperson for Unia, told Euronews that throughout Switzerland, people — from friends to spouses — do not discuss how much they're paid.
"It's a huge taboo for the Swiss, talking about salaries. We're trying to break this taboo with the website," she said.
It's this lack of awareness and opacity, she says, that leads to inequality in Switzerland.
Transparency for equality?
Unia hopes the website will start a conversation about salaries and give both men and women a better idea about how much money people in the same role, and with similar hours, make. In doing so, the union hopes it will curb experiences of pay discrimination.
"If you don't know what someone you're working with is earning, it's easier for a boss to pay unequal salaries," said Niedermueller. "In Switzerland, it's a huge problem that there is no equality around salaries."
"Women earn 20% less than men."
This figure is backed by a 2014 analysis by the Federal Statistical Office that said women in the private sector are paid 19.5% less than men. When grouping both the private and public sectors in 2016, the gap stands at 12%.
But being a woman is only one factor when identifying who is paid less, as foreigners — including men — experience pay discrimination as well, says Niedermueller.
"There are differences with what Swiss and foreigners make," she said. "Swiss men working full time are most likely to get better salaries."
What's the law on pay equality?
The Gender Equality Act, which aims to "further true equality between women and men", has been in the Swiss constitution since 1996. But rights groups, including Unia, argue that the government needs to do more to close the gender pay gap.
In May, Senate approved a bill that would require companies with more than 100 employees to carry out an analysis gender pay equity every four years and publish the findings.
But it's not just dodging pay discrimination that's a benefit, says Niedermueller.
"It makes a huge impact on working conditions when you can see what your coworkers and bosses are making. You can see if it's a just system."
"People feel more confident in the workplace, are more likely to stay at the company, and are more likely to increase productivity."
PricewaterhouseCooper's findings support Niedermueller. In a statement earlier this year, after Swiss parliament abandoned an earlier equal pay bill, the global consulting firm's Swiss office said the implementation of an equal pay bill has: "shown to drive higher employee engagement, improves the organisation's employee value proposition for potential talent, reduced potential reputation risk and also enhances retention."