Lifesaving lorries: truckers park beneath bridge in bid to stop suicide
Comments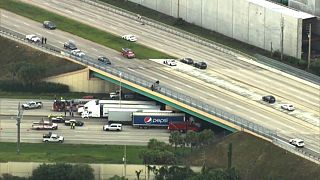 This is the moment truck drivers parked beneath a bridge in Orlando, Florida, in a bid to stop a man from jumping to his death, police say.
They put their vehicles between the man and road surface on Tuesday.
An image published by Florida Highway Patrol (FHP) shows seven lorries on both sides of the carriageway. Above there is a man hanging to railings with several police officers in the background.
FHP later said the man had decided to come down from the bridge on his own, while Orlando police tweeted to thank the drivers.