Watch: Crowds gather in Indonesia to celebrate classic Vespa scooter
Comments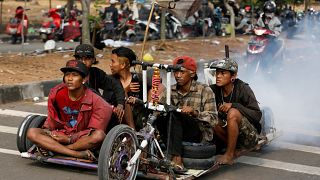 Copyright

REUTERS/Darren Whiteside
Throngs of people gathered to celebrate Vespa scooters in eastern Java, Indonesia.
The annual event attracts hundreds of enthusiasts of all ages to celebrate the classic Italian scooter.
Fans of the festival, held in the town of Kediri, showcased their customised mopeds, with embellishments that ranged from traditionally restored scooters to a "Mad Max" inspired metallic machine equipped with fake guns.
A Vespa made with a tree trunk also featured, although most competitors aimed to keep to the roots of the iconic brand, the curved forepart of the scooter.
To enter the tournament, all scooters must have a Vespa engine.
The festival is in its third year and features dirt track racing competitions and best-looking Vespa.