Italian interior minister and Hungarian PM to form anti-migration front
Comments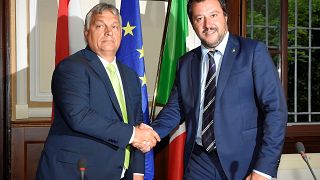 Italy's Deputy Prime Minister says France should reopen its border crossing at Ventimiglia which was a launching point for migrants crossing into France. Matteo Salvini, whose government is fiercely against migration, said France should show greater "solidarity and sensibility" on the migrant issue.
This comes after a meeting with far-right Hungarian Prime Minister Viktor Orban on Tuesday in Milan who takes an equally tough stance on migration. 
Meanwhile, thousands of pro-immigration protestors gathered outside the building to push for open borders.
He also said that talks on migration with Germany had been going on for weeks and that an agreement was close to hand to take back migrants who have passed through Italy.
But Salvini insisted that the same amount of migrants that are received from Germany must be taken out of Italy so that the number of migrants doesn't increase. He said the EU needs a new European Commission and parliament that protects the bloc's borders.