Europe briefing: Six stories to know about today
Comments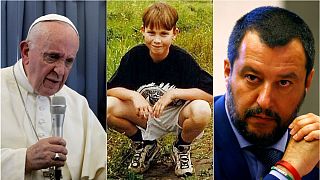 1. Pope Francis accused of covering up sex abuse
Pope Francis has refused to respond to claims he knew about allegations of sex abuse by a prominent US cardinal for years.
Archbishop Carlo Maria Vigano accused Pope Francis and others of covering up the case of Cardinal Theodore McCarrick, who resigned last month.
McCarrick, 88, resigned last month in disgrace and was stripped of his title after allegations that he had abused a minor nearly 50 years ago and also forced adult male seminarians to share his bed.
Pope Francis, returning from a trip to Ireland, said he would not respond to the claims and saying the document containing them 'speaks for itself'.
2. Prime suspect in boy's 1998 murder is arrested
Dutch police say the prime suspect in the murder of a young boy in the Netherlands two decades ago has been arrested.
Nicky Verstappen (pictured, below), 11, went missing from a youth camp in 1998 and was found dead after having been sexually assaulted.
The suspect, named as Jos B by police, was arrested in Spain after the Netherlands' biggest ever DNA harvesting operation.
3. Salvini 'under investigation'
Matteo Salvini says he is under investigation by a Sicilian prosecutor for abuse of office, kidnapping and illegal arrest.
It comes after he decided not to allow migrants onboard Italian coastguard ship Diciotti to disembark for days, prompting a criminal investigation into whether the migrants have been held against their will.
On Sunday, the 150 migrants disembarked the coast guard ship that had been docked for five days in a Sicilian port, ending the migrants' ordeal and the stand-off between Rome's anti-establishment government and its EU partners.
4. Football club's tribute to bridge collapse victims
Fans of Italian football club Genoa watched their team's game versus Empoli in near silence for 43 minutes on Sunday — to pay tribute to victims of the August 14 bridge collapse.
Forty-three people died when an 80-metre section of the bridge fell away.
Before the game fans had requested "a deafening silence of 43 minutes, one for each child, worker, student, father or mother who are no longer with us today".
In the 43rd minute, applause broke out as the names of the victims were displayed on the screen, then the crowd began singing and shouting as usual and continued for the rest of the game.
Genoa went on to win 2-1.
5. Briton back in Iranian jail
British-Iranian national Nazanin Zaghari-Ratcliffe has returned to Iran's Evin prison after a three-day release period ended on Sunday.
Her husband Richard Ratcliffe had been hopeful her reprieve would mark the beginning of the end of her ordeal.
"It's been a heck of a weekend really," he told Good Morning Europe on Monday. "We had obviously a very good few days, and then a bit of an uncertain Saturday. And then some terrible news. At the beginning of the day we thought it would be fine, then she was taken back in at the end of the day. The last I spoke to Nazanin was in the car on the way back to prison and she was just devastated. She had said goodbye to Gabriella, who was crying and wanted to know why she had to go back. Who knows how long it'll be for."
Zaghari-Ratcliffe was jailed for five years in 2016 after being convicted of spying, which she denies.
6. Are the Nordic countries really so happy?
Survey after survey claims the people of Denmark, Norway, Sweden, Finland and Iceland are the happiest in Europe, if not the world.
But a new report by the Happiness Research Institute has revealed a more nuanced picture.
It claims a significant proportion of young people in the 18-23 age group are "struggling or suffering".
The report also says that very religious people are happier in Nordic countries while a lack of social contact is a contributing factor in older men being unhappy.