Turkish police use tear gas to break up mothers' rally
Comments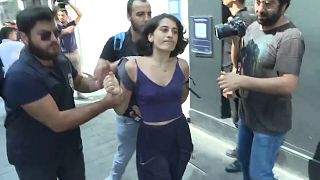 Police in Turkey detained up to 50 people as they broke up a regular rally by mothers remembering relatives who disappeared in the eighties and nineties.
It was the seven hundredth protest of the group known as the Saturday Mothers.
They've been holding rallies in central Istanbul since 1995 to draw attention to all the people who have disappeared during the ongoing conflict between the Turkish state and Kurdish insurgents.
They are calling for an independent commission to investigate the fate of those still missing.
Turkish authorities said this week's protest was banned because the event was publicised on social media they claim is linked to the outlawed Kurdistan Workers' Party or PKK.