Watch: Ukraine celebrates independence with 2,700 metre flag
Comments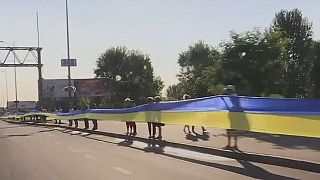 -
Ukrainians celebrated National Flag Thursday with the nation commemorating Independence Day Friday.
To mark Ukrainian Flag Day, the country unveiled a 2,700-metre flag, the largest flag ever recorded in the country, according to the Ukraine Book of Records.
Each 100-metre interval represents a year of Ukrainian independence from the Soviet Union in 1991.
Following the reveal of the flag, Ukrainian Prime Minister Volodymyr Groysman attended a ceremonial event when the flag was raised in front of the government buildings in the nation's capital, Kyiv.
"On the eve of the Independence Day of Ukraine, we celebrate a momentous day — the Day of the National Flag of Ukraine. It is a symbol of our state and independence, a symbol of the indomitable spirit and a symbol of the right to democracy and free choice," Groysman said Thursday.
The country is celebrating Independence Day with a military parade Friday.
Groysman met with US National Security Advisor John Bolton this morning before Independence Day celebrations began.