US official says Ukraine making progress towards joining NATO
Comments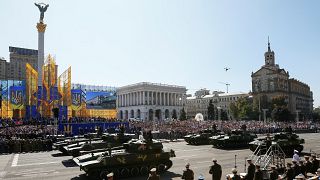 U.S. President Donald Trump's national security adviser John Bolton said on Friday that U.S. sanctions against Russia would remain in place until Moscow changed its behaviour.
Washington has imposed economic sanctions against Russia over its alleged meddling in the 2016 U.S. presidential election. Moscow denies the allegations.
"The sanctions remain in force and will remain in force until the required change in Russian behaviour," Bolton told a news conference in Kiev.
Bolton, who held talks earlier on Friday with Ukrainian President Petro Poroshenko, also said that Kiev had made progress in its efforts to join the North Atlantic Treaty Organisation (NATO), but still had work to do.
"A lot depends on Ukraine fulfilling the requirements necessary to meet all of the military and political tests to be a NATO member," Bolton said.
"I would say progress is being made but there is still more to accomplish," he added.
Russia strongly opposes NATO expansion towards its western borders and in 2014 annexed Crimea from Ukraine after Viktor Yanukovich, Ukraine's Russia-friendly president, was toppled in a popular revolution.
Bolton said it was important to resolve the Ukraine crisis and that it would be dangerous to leave the situation as it was in Crimea and eastern Ukraine, where Moscow has backed separatists in their conflict with Kiev.
On Thursday five Ukrainian soldiers were killed. Since April 2014 more than 10,300 people have been killed in the conflict.
Moscow denies providing soldiers and weapons to the rebels, even when there is plenty of evidence proving it does exactly that.
Ceasefire deals in 2014 and 15 called the "Minsk Accords" both failed.