Trump cancels top diplomat's visit to North Korea
Comments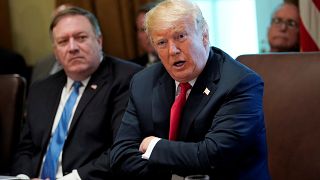 U.S. President Donald Trump has cancelled his Secretary of State Mike Pompeo's upcoming visit to North Korea, citing slow progress on efforts to denuclearise the country.
There have been several reports that North Korea is failing to dismantle its nuclear facilities including one from the United Nations.
Trump tweeted the announcement on Friday, bringing China into the equation by claiming Beijing had not done enough to help disarm Pyongyang.
But he left the door open for Pompeo to reschedule his trip, saying it would likely take place once Washington and Beijing resolved their current trade dispute.
Trump also sent his "warmest regards and respect" to North Korean leader Kim Jong-un., saying he looked forward to seeing him soon.
Mike Pompeo had been due to go to North Korea next week with his newly appointed special envoy to the country Stephen Biegun, who is a retiring auto industry executive. It would have been his fourth trip to Pyongyang although he had not been expected the meet Kim Jong-un during the visit.
Trump had previously hailed his June summit with Kim a success, claiming that the North Korean nuclear threat was over. But negotiations have since stalled with Pompeo pushing for tangible steps toward disarmament and Pyongyang demanding that Washington first make concessions of its own.