Trump claims markets would crash if he was impeached
Comments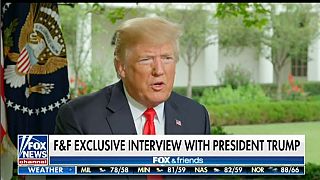 US President Donald Trump has responded to speculation that he might be impeached by warning that any such move would damage the economy.
He also complained about the Justice Department and the FBI, attacking both without providing
evidence that they had treated him and his supporters unfairly.
"I don't know how you can beat somebody who has done a great job. I tell you what, if I ever got impeached, I think the markets would crash," Trump  told Fox News.
"I think everybody would be very poor, because with that thinking, you would see numbers that wouldn't believe in reverse," he said.
The US stock market was subdued after Trump's former lawyer Michael Cohen and his former campaign manager Paul Manafort were convicted on Tuesday.
In a plea bargain Cohen admitted paying hush money to a porn star and a former Playboy model who both claimed to have had affairs with Trump.
Trump's former campaign manager Paul Manafort was convicted of tax evasion.
Trump has insisted that Manafort and Cohen were charged with matters totally unrelated to his presidential campaign.