Swiss festival alerts police after 28 Burundian artists 'vanish'
Comments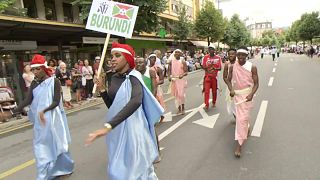 A Swiss festival has called the police after 28 Burundian artists, who were scheduled to perform at the event this month, gradually disappeared without a trace.
The Fribourg-based RFI festival had invited "Ruciteme", a well-known African troupe that had appeared at other festivals, to show at the week-long event on August 12, in which eight to 10 groups from around the world perform cultural music and dance.
But on the first day only 16 of them turned up, and over the course of the week, less than a handful remained.
The group had travelled to Switzerland on a three-month Schengen Tourist Visa, which was issued by the Belgian Embassy in Burundi, in east Africa.
"It was noticed during the festival that several members of the group disappeared", RFI Press officer Natacha Owen told Euronews.
"They did all the shows of the week, but by Friday, Saturday and Sunday, there were only three artists left."
When festival organisers found most of the group had disappeared, they confronted the remaining members.
"They were told that they would be breaking the law if they stay after their visa expires," Owen said.
"They told us that they were in danger in their country. So we told them that if there was a danger, they should take their case to the appropriate authorities for asylum."
So when the last three artists did not show up for a closing dinner on Sunday night (August 19), festival staff informed the police, who confirmed to Euronews that they knew about the case but would not pursue the missing performers while their tourist visas are valid.
"When their visas expire, the authorities will be alerted, and if they undergo a police check in Switzerland or anywhere else in the Schengen area then the situation would be different," a Fribourg police spokesman said.
Unfortunately, it is not the first time the RFI festival has lost a troupe. Around 20 years ago, a Moroccan group did not return home after appearing at the event.
"It's hard to say what their real motivations are," Owen said of the missing performers. "Burundi is in a difficult situation, with a high unemployment rate and problems with the government.
"In the African continent, it's hard to get visas, and this incident is not going to help."