Springboks confident against Argentina for second test
Comments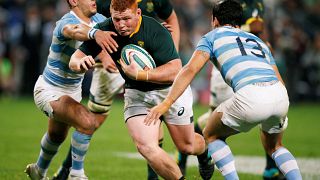 South Africa's Springboks trained on Wednesday for their second test against Argentina in Mendoza.
The South African players worked out in a hotel gym, expressing confidence but caution against the Argentine side
Springboks Captain, Warren Whiteley says, "They're a great side and we know we can't give them those types of opportunities because they will capitalize on each and every one. And that's the type of side the Argentinians are. They're never going to give up. ''
They beat Argentina, 34-21 in their opening match of the annual four-nations southern hemisphere competition.
They'll be hoping to do the same at the weekend.