Trump rips Cohen after guilty plea: 'Don't retain' his services
Comments
By Adam Edelman with NBC News Politics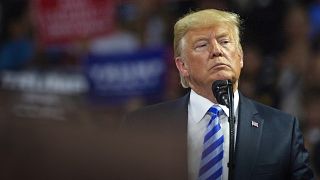 President Donald Trump — one day removed from his former personal lawyer pleading guilty totax evasion, bank fraud and campaign finance violations and claim he made hush-money payments made to women at Trump's direction — ripped his ex-attorney in a tweet Wednesday.
"If anyone is looking for a good lawyer, I would strongly suggest that you don't retain the services of Michael Cohen!" Trump wrote.
The unsubtle tweet came less than 24 hours after Cohen, who'd worked as Trump's personal attorney for years, pleaded guilty to eight counts of tax evasion, bank fraud and campaign finance violations.
Cohen said he had paid two women, apparently porn actress Stormy Daniels and Playboy model Karen McDougal, "at the direction" of an unnamed candidate in 2016 — meaning Trump — and that a $150,000 payment in August 2016 was for the "principal purpose of influencing" the 2016 presidential election. Both Daniels and McDougal have said they had past relationships with Trump. Asked if he knew that what he did was illegal, he told the court yes.
The tweet also came just hours after Cohen's own attorney, Lanny Davis, toldNBC's "Today" that his client would not accept a pardon from the commander-in-chief and is willing to share additional information about his former boss with special counsel Robert Mueller's team.
"Not only is he not hoping for it, he would not accept a pardon," Lanny Davis, Cohen's attorney, said Wednesday on "Today" about his client.