Man ends up in hospital after falling into art installation of black hole
Comments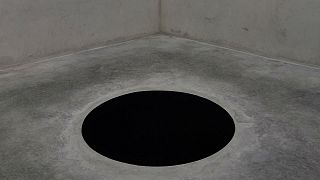 A museum visitor discovered that Anish Kapoor's work Descent Into Limbo is not just a black circle painted on the floor — but an actual hole.
An unnamed Italian man was visiting the British sculptor's exhibition at the Serralves Foundation in Porto, Portugal, when he fell inside the 2.5-metre hole, reported Portuguese media last week.
"The museum complied with all security protocol, Fernando Pereira, a museum spokesman, told Euronews. "We had warning signs, a security guard next to the artwork, and a disclaimer acknowledging the safety risk."
"But despite the safety precautions, the accident happened."
The 1992 artwork is a cube-shaped building containing a dark hole in the floor. Only a small number of visitors are allowed in the space at a time for safety reasons, said the museum. The dark hole is meant to give the impression that it goes on forever but it is in fact 2.5 metres deep.
Pereira said the visitor had been taken to a nearby hospital and was getting better. "The Serralves Foundation has been keeping a close eye on the situation," he added.
For now, the art installation Descent into Limbo remains close to the public but will re-open in the coming days.
Kapoor's exhibition in Porto, Anish Kapoor: Works, Thoughts, Experiments, features 56 models of "realised and unrealised projects conceived over the past 40 years" by the artist and are exhibited in the museum and garden area.