Europe briefing: 7 stories to know about today
Comments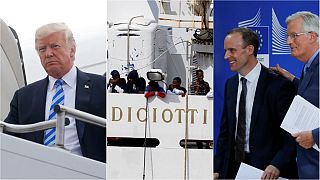 1) Trump implicated in Cohen plea
An attorney for Michael Cohen, President Donald Trump's former personal lawyer who pleaded guilty in New York on Tuesday to campaign finance violations and other charges, said Trump directed Cohen to commit a crime.
"Today he stood up and testified under oath that Donald Trump directed him to commit a crime by making payments to two women for the principal purpose of influencing an election," Cohen's attorney Lanny Davis said in a statement.
"If those payments were a crime for Michael Cohen, then why wouldn't they be a crime for Donald Trump?" Davis added.
2) Manafort found guilty of bank and tax fraud
In what might have been one of the worst days for Trump during his presidency, his former campaign chief Paul Manafort was also found guilty of bank and tax fraud, reports Reuters.
He was found guilty of eight of the 18 counts he faced, with the judge declaring a mistrial on the others.
The trial of Manafort, a veteran Republican operative, is the first stemming from Special Counsel Robert Mueller's investigation of Russia's role in the 2016 US election.
The charges against Manafort largely came before his work on Trump's campaign.
3) Asia Argento denies sexual assault accusations
Italian actress Asia Argento has denied an accusation of sexual assault by actor Jimmy Bennett.
The leading member of the #MeToo movement claims her late partner Anthony Bourdain made a payment of 380,000 dollars to Bennett last October to help him through financial problems.
Argento said: "I am deeply shocked and hurt by having read news that is absolutely false. I have never had any sexual relationship with Bennett."
4) Italy — migrants stranded
The fate of 177 people on board the Italian coastguard ship, the Diciotti, is still uncertain.
The boat finally docked in the Sicilian port of Catania yesterday, ending a standoff with Malta over where it should disembark.
Italian Interior Minister Matteo Salvini has not given authorisation for the refugees and migrants, who are mostly from Eritrea or Somalia, to get off the boat.
He said the passengers, who have been stuck on the ship for five days, will not be allowed on land until "Europe steps in to help''.
The European Commission said it was working on a solution to disperse the migrants aboard the Diciotti among Italy's EU partners after a request from Italy's foreign ministry the previous day.
5) Saudi Arabia death penalty for female activist
Saudi Arabia's public prosecutor is seeking the death penalty against five human rights activists from the kingdom's Eastern Province who are on trial in a secretive terrorism court, groups including Human Rights Watch (HRW) said.
Among the detainees is Israa al-Ghomgham, whom Saudi activists said was the first woman to possibly face the death penalty for rights-related work. Charges against her include incitement to protest and providing moral support to rioters.
"Any execution is appalling, but seeking the death penalty for activists like Israa al-Ghomgham, who are not even accused of violent behaviour, is monstrous," Sarah Leah Whitson, Middle East director at HRW, said in a statement on Wednesday.
6) Magnitude 7.3 earthquake strikes Venezuela's eastern coast
The governor of Venezuela's Sucre state, which is the closest to the offshore epicentre of the major 7.3 quake that struck on Tuesday, said that so far there were no reports of deaths or major damage due to the tremor.
Socialist Party governor Edwin Rojas told state television that the situation was calm in the eastern coastal state.
7) Danny Boyle pulls out of James Bond film
Oscar-winning filmmaker Danny Boyle will no longer direct the latest James Bond film due to "creative differences", producers announced.
Boyle said in March he would direct the 25th film in the franchise and was working on the script with Trainspotting writer John Hodge.
The film's producers, Michael G Wilson and Barbara Broccoli, said in a statement that the director had pulled out of the project.
Here's how events unfolded: