In pictures: How Rohingya are celebrating Eid in refugees camps
Comments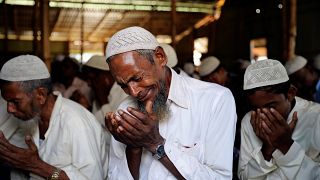 Rohingya refugees in the sprawling refugee camp of Cox's Bazar celebrated the four-day Muslim holiday of Eid al-Adha.
In the refugee camp, which is home to hundreds of thousands of Rohingya, the faithful answered the morning call to prayer, filling makeshift mosques.
Persecuted in predominantly Buddhist Myanmar, many Muslim Rohingyas said they had to pray secretly in the country before fleeing to neighbouring Bangladesh.
Despite living in makeshift shelters in the Bangladesh "mega camp", families were pictured buying new clothes to dress up and toys for their children.
The four-day holiday of Eid al-Adha, which celebrates the Prophet Ibrahim and his willingness to sacrifice his son, sees Muslims slaughter sheep, cattle or goats.
Nearly 700,000 Rohingya, a predominantly Muslim minority living in Rakhine State, western Myanmar, have fled the country since last summer after the government launched what it called a "clearance operation" that it said was in response to attacks by Rohingya armed groups.
In the violence that followed the operation at least 6,700 Rohingya, including at least 730 children under the age of five, were killed in the first month, according to Medecins Sans Frontieres (MSF).
Considered by the Myanmar government as illegal immigrants from Bangladesh, they have been denied citizenship in Myanmar since 1982 and described by the United Nations as "one of the most persecuted minorities in the world".