As earthquake rattles Venezuela, Twitter users ask 'what else can go wrong' with memes
Comments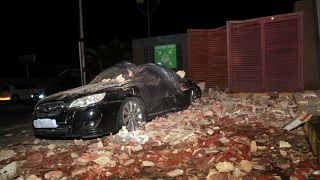 "What else can go wrong in Venezuela?"
Residents are asking themselves just this after a 7.3-magnitude earthquake shook the country's eastern coast on Tuesday. While there were no casualties or major damage, Venezuelans are aware of just how close disaster struck.
Venezuela's economic turmoil has led to severe shortages in food and medical supplies, including basic products such as milk.
As a way to deal with the situation, Venezuelan Twitter users decided to poke fun at the situation with memes.
"There is no food, no medicine, currency conversion, (minimum) salary is 1800 (bolivares) — roughly $2.34 or €2.02 — Maduro still in power, civil registry office doesn't work, and now it shakes!"
Other people decided to joke about the country's worsening situation by using the hashtag #earthquake.
"Us: 'ok, nothing worse can happen to the country.'
Earthquake: (image) "
"Which is the country with the worst luck?"
"And what does the Venezuela landscape look like right now?"
Other tweets poked fun at the new currency introduced by Venezuelan President Nicolas Maduro that got rid of five 0s to battle hyperinflation and the deepening economic crisis.
"Colombia: earthquake with a 7.7 magnitude according to the Richter magnitude scale.
Venezuela: earthquake of 0.00077 Richter Soberanos (the new currency is called Bolivar Soberano)."
"Inflation in Venezuela is so bad that the 7.3 magnitude earthquake has turned into 78093.3. The strongest in history."
Tweets also made fun of the fact that there were no videos of products falling to the ground in Venezuelan supermarkets because there's no food in them.
"There's no videos of supermarkets in Venezuela because there's nothing in them"