Watch: Vintage Citroëns battle it out in 24-hour endurance race
Comments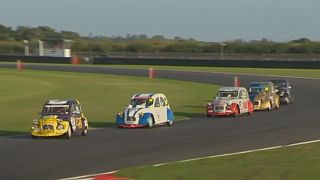 The annual 24-hour vintage Citroën 2CV race has taken place in Norfolk, England.
The race began on Saturday afternoon and saw 27 teams of between two and four drivers race through the night and into the following day.
The 'Beacon Downe' team snatched first prize, in a highly contested race that saw the leading position changing continuously throughout the competition.
The team travelled 2,120km in 24 hours, completing the 3km Snetterton circuit 708 times.
Mechanics were on standby throughout the race to repair mechanical failures, which became a common theme throughout the endurance race.
The vehicle can last for up to two hours with 20-litres of fuel, with engine changes taking between 15 and 20 minutes.
Six minis and two Citroën hybrid cars also took part, adding additional atmosphere to the hotly anticipated unconventional race.
Although production of the C2V model ended in 1990, enthusiasts remain as avid as ever for the French classic, with its distinctive appearance and low-powered 602cc engine.