Stop calling us 'Mormons', says Church leader
Comments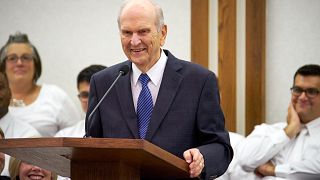 The faith is primarily known around the world as the Mormon Church but a new directive issued last week by Russell M Nelson, president of the Church of Jesus Christ of Latter-day Saints, now dictates that the term "Mormon" may no longer be used to describe the church or its followers.
"While the term "Mormon Church" has long been publicly applied to the Church as a nickname, it is not an authorised title, and the Church discourages its use," the church said in a newly-issued style guide.
"Thus please avoid using the abbreviation "LDS" or the nickname "Mormon" as substitutes for the name of the Church, as in "Mormon Church", "LDS Church", or "Church of the Latter-day Saints"."
Additionally, it asks that the terms "Mormons" — to describe followers — and "Mormonism" — the combination of doctrine, culture and lifestyle — not be used anymore.
It explains instead that "Mormon" is only correctly used in proper names such as "the Book of Mormon" — the religion's sacred text — or when used as an adjective in historical expressions including "Mormon Trail."
Church President Russell M Nelson, 94, said in a statement he initiated the policy after "the Lord has impressed upon my mind the importance of the name He has revealed for His Church, even The Church of Jesus Christ of Latter-day Saints."
The changes are likely to take some time to kick in — the official website has so far remained as "www.mormon.org" — something Nelson acknowledged in his statement.
"We have work before us to bring ourselves in harmony with His will. In recent weeks, various Church leaders and departments have initiated the necessary steps to do so," he added.
According to their figures, the Church of Jesus Christ of Latter-day Saints counts more than 16 million followers worldwide.