Muslims celebrate Eid Al-Adha, the Feast of the Sacrifice
Comments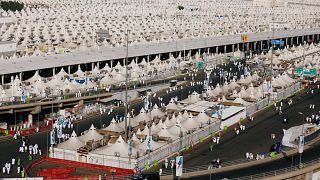 Muslims have been celebrating the first day of Eid Al-Adha, which marks the end of the Hajj pilgrimage to Mecca in Saudi Arabia.
Traditionally sheep are slaughtered during the three-day festival, a tribute to the Prophet Ibrahim's sacrifice of a lamb after God spared Ismail, his son.
They will consume some of the meat and give the rest to the poor.
Muslims believe Ibrahim's faith was tested when God commanded him to sacrifice his only son.
A version of the story also appears in the Christian Bible and Jewish Torah.
On Monday pilgrims visited mount Arafat, where they believe the Prophet Muhammad gave his last sermon.
And on Tuesday the 2.4 million pilgrims from 165 countries walked to the complex at Jamarat to perform a ritual of throwing pebbles at three columns.
It's here that Muslims believe the devil tried to talk the Prophet Ibrahim out of submitting to God's will.