Italy refuses to let refugees and migrants disembark after coastguard ship, Diciotti docks in Sicily
Comments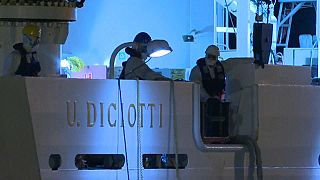 The fate of 177 people on board the Italian coastguard ship, the Diciotti, is still uncertain. 
The boat finally docked in the Sicilian port of Catania at 11.53pm last night, ending a standoff with Malta over where it should disembark.
But Italian interior minister Matteo Salvini has not given authorisation for the refugees and migrants, who are mostly from Eritrea or Somalia, to disembark.
He said the passengers, who have been stuck on the ship for five days, will not be allowed on land until "Europe steps in to help''.
The European Commission said it was working on a solution to share out of the migrants aboard the Diciotti with Italy's EU partners after a request from Italy's foreign ministry the previous day.
"The Diciotti ship will dock in Catania," Transport Minister Danilo Toninelli said on Twitter. "Now Europe must hurry to do its part."
Our correspondent Anelise Borges spent 10 days on board the humanitarian rescue ship, Aquarius back in June- she joins us live from Paris .
You can see her report on the latest on this story in the video above.