West Bank and Gaza wait eight years for mail delivery
Comments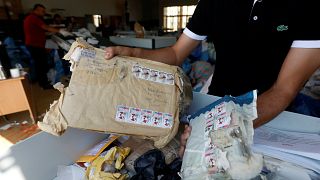 Over ten tonnes of mail destined for Palestinians has arrived in the West Bank from Jordan. Nothing unusual in that you might say, but in this case, Israel delayed the delivery for eight years. The mail includes thousands of personal letters and even some toys for children who will now, no doubt, be too old to play with them.
"It was blocked because each time Israelis gave us a reason and an excuse," said Palestinian postal official Ramadan Ghazawi. "Once they said the terminal, the building that the post was supposed to arrive at, was not ready and once they said to wait, that they're expecting a larger security checking machine."
Mail for the West Bank and Gaza first has to pass through Israel so it can be security checked. Israeli authorities said the direct transfer from Jordan was a one-off gesture and that moves were underway to implement a 2016 agreement that would enable direct international mail links with the West Bank. Officials say some of the packages will be difficult to deliver due to damage. People who live with mail delays regard them as unacceptable
"For example, if you order a shirt or any other thing for my daughter maybe it won't fit her because she grew and the mail did not arrive," said Jericho resident Rami Baker.