Watch: Millers uses traditional methods to make edible oil
Comments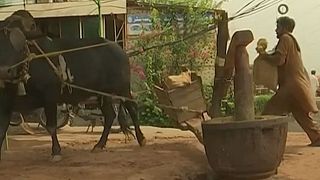 Some Pakistani oil millers are busy using a traditional animal-powered practice to make edible oil.
The oil-extraction method, called 'ghani', uses bulls to power a wooden machine, which is similar to a mortar and pestle.
The ghani extraction procedure is 4,000 years old and was invented by the Harappa civilisation, with milling method cold-pressing oil from mustard, sesame or rape seeds.
The edible oil has remained popular, with many viewing the product as healthier to the industrial counterpart.
The nutritional value of cold-pressed oil remains high following the extraction process, with health experts adding that the heat used during industrial procedures often causes nutrients to be removed from the oil.
The cold-pressed oil is more expensive than regular factory-made oil, with one kilogram of ghani-extracted oil costing around €0.90 more than its industrial equivalent.
Fifty-two-year-old Mohammad Tahir Tanweer says that he is only one of two owners of a ghani machine in the region surrounding the Pakistan capital, Islamabad.
With little competition, the oil miller often works overtime to keep up with demand.
Although he remains busy, Tanweer remarked that the ghani-produced oil trade has dropped significantly over the decades, with young workers being put-off by the high costs of the mill.