Shots fired from vehicle at US embassy in Turkey
Comments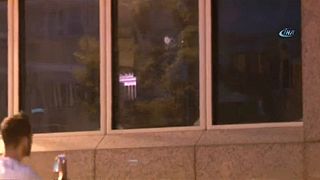 Shots have beeen fired from a vehicle at the US embassy in Turkey's capital Ankara.
A window in a security cabin was hit but no one was hurt, both the police and local media reported.
A Turkish presidential spokesman tweeted that it was "an attempt to create chaos."
Relations between the two countries have been strained over the trial of an American pastor in Turkey as well as economic disputes.
Turkey also wants the US to hand over Muslim cleric Fetullah Gulen whom it says masterminded a failed coup against President Erdogan in 2016.
In the past there have been numerous attacks on both the embassy and the US consulate in Istanbul by militants.