Italy's threat to Malta over immigrants | Euronews Answers
Comments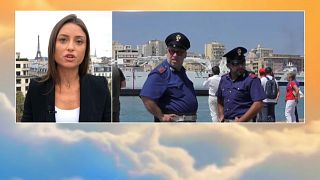 Italy is threatening legal action against Malta, saying that it's neighbour is failing to fulfil its obligations to rescue migrants in the Mediterranean. Anelise Borges explains the situation
What has sparked this action?
For the past few months, Italy has been saying it has already done enough to help migrants and it's time other European countries do their part.
According to the International Organisation for Migration (IOM), Italy received more than 120,000 asylum requests last year and government figures suggest nearly 700,000 people have reached Italy by sea since 2015. Local authorities put the cost in receiving, registering and caring for these people at over €4 billion.
Rome has repeatedly demanded that the European Union step up its support and that other EU countries share the responsibility for those crossing the Mediterranean Sea.
This most recent row between Italy and Malta is yet another attempt by Rome show its determination in sticking to a strict migration policy that involves keeping ports closed to migrants and refugees – whatever the costs for the vulnerable people rescued from the sea.
What are the consequences of the dispute between the two countries?
For years, Italy and Malta have largely been the two sole authorities coordinating search and rescue missions in the stretch of sea north of Libya's coast – a crossing that has become known as the world's deadliest migration route.
This particular row over the 177 migrants rescued last week follows another dispute over where both countries initially refused to disembark 450 people also rescued during Frontex operations.
Rome only agreed to take them in once it got reassurances from the EU that the migrants would be distributed among other EU nations.
And this is precisely what they are hoping to achieve once again. But Italy's interior minister has gone as far as saying that, if a solution is not found quickly, he will resort to an even more dramatic decision.
Matteo Salvini has been quoted as saying that either "Europe decides to help Italy concretely, starting with the 180-odd migrants aboard the Diciotti, or we'll be forced to do what will definitively stop the smugglers' business: bring the people recovered at sea to a Libyan port".
Bringing the 177 migrants back to Libya could have legal implications for Italy: Libya is not considered a safe place for those rescued at sea and human rights abuses are often reported in detention centres where migrants are taken to once they are found trying to cross into Europe.
But it wouldn't be the first time Italy returned people to Libya – the European Court for Human Rights has faulted the country for doing that in 2012.
What is the EU doing?
EU leaders have yet to agree on a common EU migration policy.
So far, they haven't even been able to establish a sustainable disembarkation mechanism so that migrant rescue vessels don't have to spend days stranded at sea with hundreds of vulnerable people on board while EU countries fight over who will take them in.
Back in June, an emergency EU summit was held to try and bridge certain differences. But it became very clear then that it will take a lot of work for certain countries to put their differences (and potential domestic political gains) aside, and work together on a common response to a problem that is unlikely to go away anytime soon.