Giuliani: Trump Tower meeting not collusion because Clinton info was 'not pursued'
Comments
By Ben Kamisar with NBC News Politics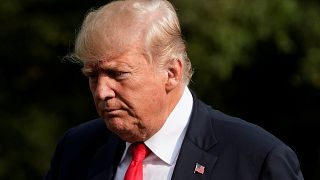 -
WASHINGTON — President Donald Trump's attorney Rudy Giuliani said Sunday that a 2016 meeting at Trump Tower between top Trump campaign officials and a Russian government ally could not be evidence of collusion even though the intention of the meeting was to get damaging information on Democratic presidential candidate Hillary Clinton.
Appearing on NBC's "Meet the Press," Giuliani brushed aside the idea that special counsel Robert Mueller could rely on the meeting for any possible charges against the president.
"It turned out to be a meeting about another subject and it was not pursued at all. Any meeting in regards to getting information about your opponent is something any candidate's staff would take," Giuliani said on "Meet the Press."
"The president of the United States wasn't at that meeting, he didn't know about that meeting, he found out about it after. By the time he found out about it, it was nothing. If this is their case for collusion, good luck Mueller."
The meeting in question took place at Trump Tower in June of 2016, when Donald Trump Jr., Trump son-in-law Jared Kushner and then-campaign chairman Paul Manafort met with a Russian lawyer with the understanding that she would pass along damaging information about Clinton, Trump's opponent in the presidential race.
Since the existence of the meeting was revealed in 2017, Trump and his team have issued a flurry of conflicting statements about it amid the backdrop that the special counsel's investigation could be looking at the meeting as it investigates Russian collusion in the election.
Giuliani also threw more cold water on the prospect of the president testifying in the special counsel's investigation, arguing he wants to avoid Trump getting "trapped into perjury."
"When you tell me that, you know, he should testify because he's going to tell the truth and he shouldn't worry, well that's so silly because it's somebody's version of the truth, not the truth," he said.
"Truth isn't truth," Giuliani added, pointing to the accusations that Trump discussed the investigation into his former national security adviser, Michael Flynn, in a meeting with then-FBI director James Comey, who Trump later fired.
"Donald Trump says: I didn't talk about Flynn with Comey. Comey says: You did talk about it. So tell me, what the truth is?"
Giuliani spoke with "Meet the Press" one day a New York Times story revealed that White House counsel Don McGahn has been fully cooperating with the special counsel's investigation and has sat for 30 hours of interviews over nine months.
While Giuliani admitted that he doesn't know exactly what McGahn has Mueller's team, he said he has a "good sense" of what the White House counsel said from former Trump attorney John Dowd.
Giuliani accused the special counsel of being "desperate" and leaking McGahn's cooperation "illegally" to the New York Times.