Erdoğan: Currency crisis an "attack" on Turkey
Comments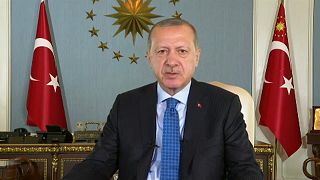 Turkish President Recep Tayyip Erdoğan has once again denounced what he called an "attack" on his country's economy.
Responding to a recent currency sell-off Erdoğan framed an address to mark the Eid al-Adhar holiday in stark religious and nationalist terms.
"There is no difference between the attack on our economy and the attack on our prayer and our flag. The aim is the same," Erdoğan said on Monday (August 20). "The aim is to bring Turkey and the Turkish people to their knees and take them hostage."
Erdoğan stopped short of naming specific countries or institutions but in the past has blamed a so-called "interest rate lobby", Western ratings agencies and financiers.
Turkey's currency has tumbled by some 40 percent since the start of the year, amid worries about Erdoğan's control over monetray policy and worsening relations with the United States.