Erdogan, Merkel hope to defuse tensions as two leaders meet
Comments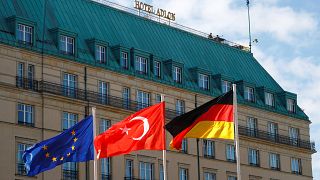 Turkey's President Recep Tayyip Erdogan arrives in Berlin today for the first day of talks with German Chancellor Angela Merkel.
Preparations are underway in the German capital as the Turkish leader hails the trip as a chance for the two nations to carve a new beginning. Relations had soured in recent years between the two countries after a number of German journalists were arrested in Turkey as well as several political opponents of Erdogan.
Since a coup attempt in Turkey two years ago, the German government itself has been critical of Turkey's deteriorating human rights situation. The incarceration of government critics and multiple journalists have only furthered the strain. There are still five German citizens imprisoned in Turkey.
Erdogan accused Germany of "Nazism" last year after it blocked political rallies by Turkish politicians ahead of a constitutional referendum. The rallies were an attempt to woo ethnic Turks who live in Germany into voting in favour of political reforms which saw the President given sweeping new powers.
Former Interior Minister Thomas de Maziere said, "a Turkish campaign has no business being here in Germany," at the time.
But it is not only the Turkish government facing down criticism for the visit – the invitation by the Bundestag has been questioned as well.
"What the EU and Germany are doing with this state visit is that they are courting the autocrat Erdogan," said Ali Ertan Toprak, head of the Kurdish Organisation of Germany. "And in that way, we are supporting his anti-democratic politics."
Chancellor Angela Merkel and President Frank Steinmeier are expected to use the visit to push the Turkish leader for the release of the Germans still imprisoned in Turkey. Ties are likely to be kept diplomatic, however, and it is unlikely to be too confrontational — Merkel will skip a banquet put on for the Turkish President's honour. Erdogan has already told German media that he wants to use this trip to put, "the last phase in our relationship completely behind us".
'Turkey needs Germany'
With the Turkish lira plummeting to record lows this summer, President Erdogan is likely hoping for something more lucrative from this trip.
"It is economic assistance, which is expected to help Turkey out of economic crisis. In particular, Turkey needs huge amounts of investment from Germany. The Turkish need further help from the Germans," said Gu Xuewu, professor of politics at the University of Bonn.
"Under the pressure of the United States, Turkey needs an ally. It hopes Germany can come forward to adjust Europe's attitude towards Turkey."
The German administration could also be keen to maintain cordial diplomatic ties with a country that bears the brunt of the migration crisis for Europe. At the moment a 2016 agreement between the EU and Turkey means that refugees who came via Turkey through to Greece will be sent back unless they can prove that their lives would be endangered in Turkey. There are nearly three million Syrian refugees living in Turkey.
The rapid influx of migrants and Angela Merkel's "open door" policy for refugees has seen the rise of the anti-migrant AfD Party take main opposition in Germany — even polling higher than Merkel's CDU in parts of the East.
"To Germany, a stable and prosperous Turkey is crucial to the national interests of Germany," added Professor Gu Xuewu.
"On one hand, it can guarantee the deserved interests of Germany from investment in Turkey. And secondly, more significantly, it will not worsen Merkel's immigration policy, as Turkey has actually helped intercept millions of refugees in migration, stopping them from entering the Eurozone. Merkel has already under pressure on the immigration issue, so she would not like to see any more trouble from Turkey in terms of the refugee issue."