Indian PM pledges aid as rain lets up in Kerala
Comments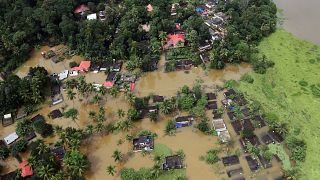 It's been dubbed the state's worst floods in a century.
The deluge in India's Kerala state has left hundreds dead.
The rain has let up giving some respite for thousands of marooned families.
The Indian Meteorological office says in some places the floods have begun to recede.
Prime Minister Narendra Modi, visited the state yesterday, announcing a 60 million euro aid package for the region.
Using boats and helicopters, the race in on to reach people in communities cut off for days and those in desperate need of food and potable water.
More than 200,000 families have taken refuge at relief camps set up across the state.
Kerala's health department says it focus will now be on containing the outbreak of water borne and air diseases.