At least five children seriously injured by blaze in Paris suburb
Comments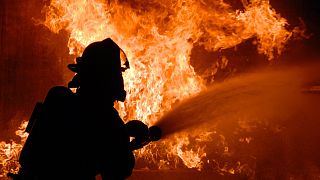 -
At least five children are reported to be in critical condition and several police officers have been hurt after a fire broke out at a residential building in the Parisian suburb of Aubervilliers.
The blaze, which started on Sunday evening, has since been brought under control, a Paris fire station spokesperson told AFP.
It was reportedly sparked in the attic and required around 100 firefighters to stop it from spreading.
Interior Minister Gerard Collomb commended the efforts of authorities on Twitter, saying: "@Aubervilliers: The fire has now been extinguished.
"I salute the exemplary mobilisation of the #PompiersParis police officers who intervened immediately to bring the occupants to safety.
"My first thoughts go to those who have been wounded and hospitalised."
It is the second fire to break out in Aubervilliers in less than a month. In July, a mother and her three children died after an 18-storey residential tower block caught fire. A 10-year-old child suspected of causing the blaze by playing with a lighter was indicted days later, but would not face criminal punishment due to his age.