Watch: Brussel's Grand Place square covered with colourful flowers
Comments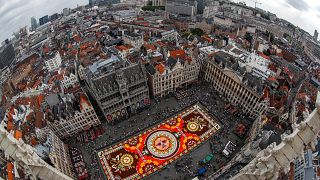 The cobblestones of the iconic Grand Place market square in Brussels has been covered in a colourful flower carpet.
More than 500,000 flowers were used to create the art, with the exhibit occurring every other year. 
This year, the 1,800 square metre display is inspired by Guanajuato, a Mexican region renowned for its exceptional culture and customary use of flowers.
This summer's extreme heat posed new challenges for the organisers, who worried that the extreme temperatures may kill the flowers.
Recent cooler weather provided the display, with a last-minute reprieve, allowing the flowers to flourish.
The botanical exhibit can be viewed at the UNESCO World Heritage site until August 20.