Hamburg sells unused housing for refugees on eBay
Comments
By Johannes Pleschberger & Alice Tidey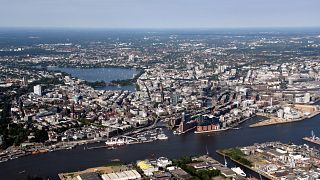 -
The German city of Hamburg is selling small housing it purchased to welcome refugees after arrival numbers plummeted.
"Former housing for #Refugees, used, well-preserved, solid wooden houses," the city's office for refugees tweeted on Tuesday alongside a link to an eBay page.
The minimum bid for one of the 50 wooden structures of 28 square metres was €1,000. Interest was so high that the ad — which stated the houses could be repurposed as a yoga studio, a workshop or a guest house — was withdrawn just two days later.
"Due to high demand, we have disabled the ad," a tweet announced on Thursday.
"All interested parties — who contacted us in the meantime — will receive an answer. However, this can take some time. Thank you for your understanding," it added.
There was a catch, however: buyers need a building permit and they will also have to move the structure from where it currently resides at their own cost.
The structures, which were purchased three years ago at the height of the refugee crisis, are being sold as the number of arrivals in Germany has declined massively.
In 2015, some 890,000 asylum-seekers arrived in Germany. Last year, there were 186,644, according to figures from the country's Office of Migrants and Refugees.